NGA's Tearline Awarded OSINT Unit of the Year Award
OSINT Foundation
03/01/2023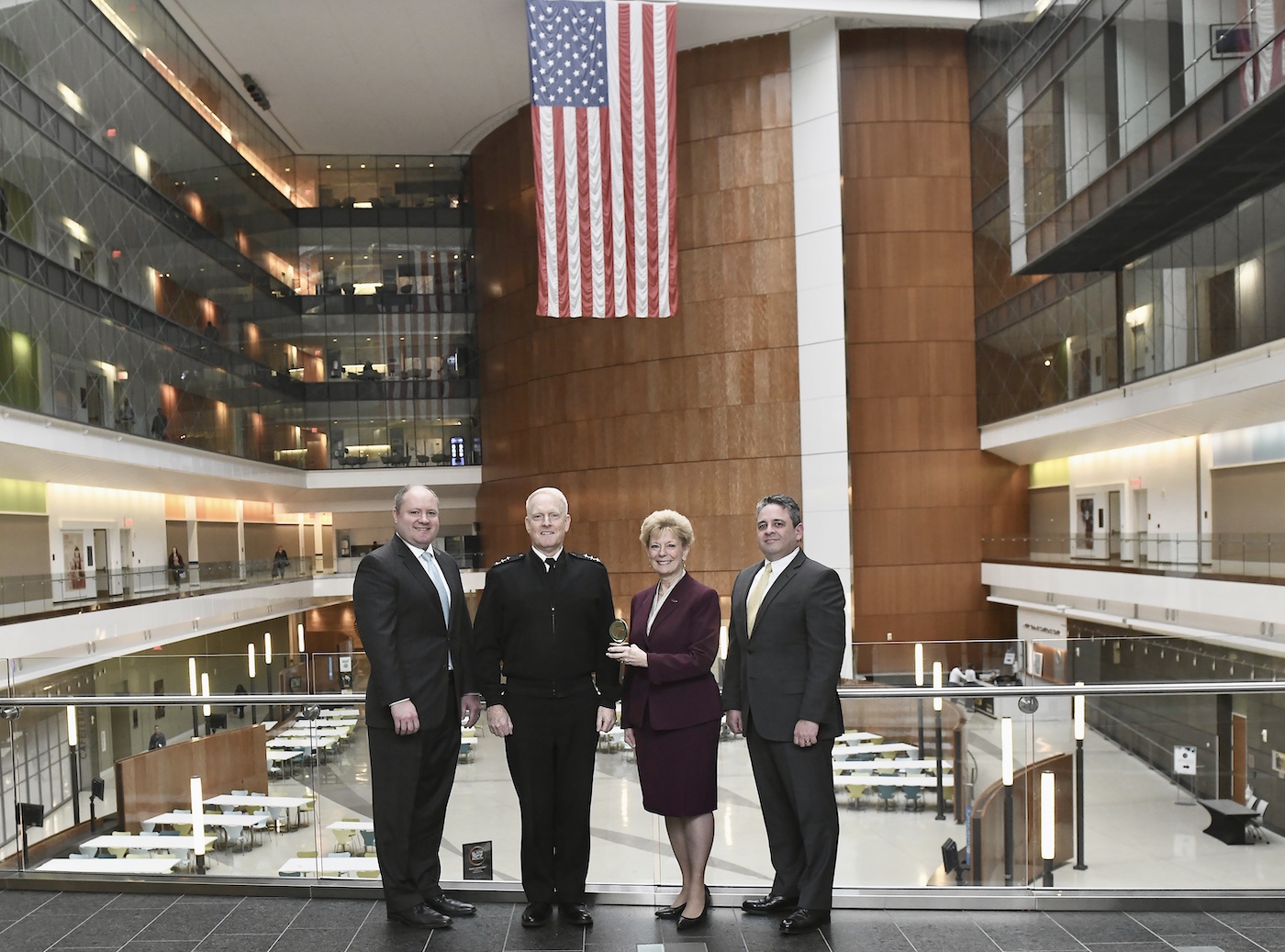 Left to right – Chris Rasmussen, NGA Tearline, Program Manager; Vice Admiral Frank Whitworth, NGA Director; Barbara Alexander, OSINT Foundation President; and Eliot Jardines, OSINT Foundation Director of Operations
Springfield, VA (March 1, 2023) – The OSINT Foundation announces the inaugural award of the Turbiville OSINT Unit of the Year Award to the National Geospatial-Intelligence Agency's Tearline Project. The award recognizes the Intelligence Community unit that has demonstrated exceptional impact to national security and has materially contributed to the open-source intelligence (OSINT) discipline. The award is named for Dr. Graham Hall Turbiville, Jr., who served as Director of the U.S. Army Foreign Military Studies Office. He was a widely respected member of the defense intelligence community for more than 40 years, and a steadfast advocate of OSINT.
The Tearline Project has materially contributed to the national security of the United States by establishing a public-facing website which highlights OSINT-enabled GEOINT products of national security interest. The Program's resulting intelligence products better inform decision makers and the general public regarding the topics covered, while also educating prospective Intelligence Community professionals on OSINT and GEOINT exploitation and analytical tradecraft. Tearline advances the National Geospatial-Intelligence Agency (NGA) mission by delivering world-class geospatial intelligence that provides a decisive advantage to its consumers. Tearline Project provides high-quality OSINT products that support NGA's consumers, train the future NGA workforce, and educate the public.
Chris Rasmussen, Program Manager, Tearline stated, "What makes Tearline successful is that it's mutually beneficial for both NGA and our collaborators. We're helping bridge the gap between intelligence and the public through the transparent creation of quality OSINT."
OSINT Foundation President Barbara Alexander states: "It is a great privilege to present the NGA Tearline Project with the first Turbiville OSINT Unit of the Year Award.

Tearline represents the future of the OSINT discipline: innovative and forward-looking use of technology coupled with meticulous tradecraft that taps into the growing community of practitioners outside of the U.S. Intelligence Community to provide meaningful, operationally-relevant products to answer intelligence questions. The Foundation's commitment to the development of the next generation of open-source intelligence practitioners makes Tearline an especially meaningful inaugural recipient, and one that would clearly have delighted Dr. Turbiville.
"