OSINT Unit Award Named For Dr. Graham Turbiville
OSINT Foundation
10/10/2022
The OSINT Foundation is pleased to announce that our OSINT Unit of the Year award has been named after Dr. Graham Turbiville. The award recognizes the U.S. Intelligence Community unit which has demonstrated exceptional impact to national security and has materially contributed to the OSINT discipline. Dr. Graham Hall Turbiville, Jr., served as Director of the U.S. Army Foreign Military Studies Office (FMSO), at Fort Leavenworth, Kansas. He was a widely respected member of the defense intelligence community for more than 40 years, and steadfast advocate of open-source intelligence (OSINT).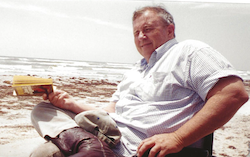 Dr. Turbiville joined what would become FMSO in 1986 and retired as its director in 2003. Prior to heading FMSO, Dr. Turbiville served as chief of the Soviet/Warsaw Pact Strategic Operations Branch, at the Defense Intelligence Agency. In this position at DIA, he and his branch made significant inputs and contributions to the understanding of the Soviet strategic threat to US national security interests at the time. A prolific writer, Dr. Turbiville was noted for his expert knowledge of Soviet politico-military affairs, as well as of revolutionary warfare, deception, subversion, and narco-trafficking. His work was featured in a large number of military related journals and books. He was the founding editor of the journal Low Intensity Conflict and Law Enforcement, a foundational publication that was instrumental in linking the military and legal countersubversive efforts of US and foreign governments. Dr. Turbiville worked closely with a host of US and foreign officials who regarded him highly and constantly sought his advice.
Born in Tampa, Florida on September 9, 1942 to Col. Graham Turbiville, Sr., and Frances Gathright Turbiville, Dr. Turbiville received his bachelor of arts degree from Southern Illinois University, a master of arts from The George Washington University, and a PhD from the University of Montana. He passed away on April 24, 2012 in Dripping Springs, Texas.